Unlock the Power of Listicles: Tips for Marketers
Listicles have become a popular way for marketers to engage with their audience and create content that is both informative and entertaining. As its name suggests, a listicle is an article in the form of a list – typically consisting of five or more items. It offers readers quick bites of information without requiring them to invest too much time reading it. With this style, you can easily highlight key points while providing valuable insights on any given topic – making it an effective tool for SEO optimization as well! In this blog post, we'll explore what makes up a good listicle and how you can use it effectively within your marketing strategy. From benefits to best practices – dive into all things listicles right here!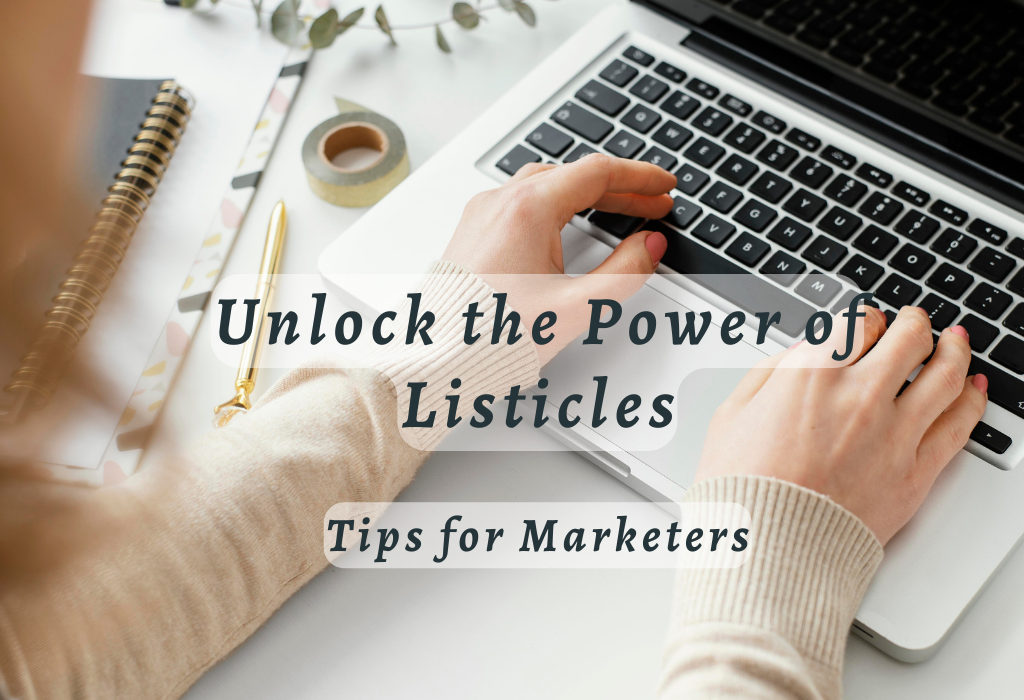 What is a Listicle?
Listicles are an effective way to present information in a concise and easy-to-digest format. They can be used for any type of content, from news articles to blog posts and even product descriptions.
A listicle typically consists of a numbered or bulleted list that contains short snippets of text. This makes it easier for readers to quickly scan the article and find the information they need without having to read through long paragraphs.
Benefits of Listicles
Listicles have become an integral part of content marketing and SEO. Here are five reasons why listicles can be so powerful:
The number in the headline is key for catching readers' eyes in an oversaturated online environment. This format also lets people know how much information they will receive quickly and concisely – perfect for busy lifestyles.
Listicles break down the body of content into easily digestible pieces by numbering the top subjects or adding supporting images or GIFs below each point – making it easier for writers to express their ideas clearly while saving readers time when skimming through the article.
It keeps people engaged longer than traditional articles do. Listicle headlines often use simple words that most people understand right away, which helps keep them interested throughout the entire piece instead of getting lost in complex jargon or long paragraphs filled with technical terms only experts would understand (which usually leads to quick exits).
Writing listicles about topics relevant to what you do shows potential customers that you know what you're talking about and gives them confidence that they can trust your advice – leading them closer to becoming loyal followers who may even purchase from you later on down the line.
People love sharing helpful tips or interesting facts with their friends, family members, colleagues, etc., so having a well-written listicle increases the chances of it being shared more widely than other types of content such as blog posts or videos (which tend not to be as "shareable"). This means more exposure for your brand.
How to Plan a Listicle: Stepwise guide
Here are some tips for planning a successful listicle:
Step #1: Choose a topic that interests your audience –
Your listicle should be relevant to your target audience so they can easily relate to it. Think about what topics would be of interest or usefulness to them, then narrow down the choices until you find one that works best for your article.
Step #2: Brainstorm ideas
Once you've chosen a topic, start brainstorming ideas related to it by writing down anything that comes into your head (no matter how silly). This will help get the creative juices flowing and give you plenty of material from which to choose when creating the actual listicle later on.
Step #3: Research
After coming up with initial ideas, do some research online or in books, magazines, newspapers, etc., if necessary, to back up any points made in the article with facts or statistics where appropriate.
Step #4: Outline the structure
Create an outline of how many items there will be in each section, this makes sure everything flows nicely when reading through rather than jumping around randomly from point to point without any sense of direction or purpose behind them all being together like they are supposed to.
Step#5: Write content
Start by introducing each section before diving into details about individual items within those sections; this gives readers context as well as helps keep things organized throughout the entire piece instead just listing off random points without explaining why they belong together as they do.
Step#6: Edit and proofread
Once finished writing the first draft go over the whole thing again looking for typos and grammatical errors etc., and making changes where needed so the final product looks professional before publishing online.
How to Write a Good Listicle
Listicle is relatively easy to create, making it ideal for marketers who need to produce content quickly. Here are some tips on how to write a great listicle:
Choose the right type of Listicle:
Depending on your topic, you can choose from several types of listicles such as numbered lists, bullet points, or even comparison charts. Pick the one that best suits your goals and angle for the article.
Make sure each point is interesting and adds value to the reader's experience. Include images or videos when possible as this will help engage readers even further.
Optimize your Listicles:
don't forget about optimizing your listicles for social media sharing. Make sure there are plenty of share buttons at the end of every post so users can easily spread them around their networks if they enjoyed reading them.
Include Sources & Links:
Whenever possible, include sources for any facts or figures mentioned in your article — this adds credibility to your work and gives readers additional resources if they want to learn more about certain topics covered in the piece.
Check for filler words:
Before publishing, run through a checklist which includes checking for filler words or phrases that could be removed from your piece without affecting its meaning or impact; this will help keep it concise and focused on what matters most—the message you want to convey.
Tips for Writing Engaging Listicles
Key Takeaway: Craft engaging listicles with attention-grabbing headlines, humor (if appropriate), useful tips and advice, SEO optimization, and examples of successful listicles.
Examples of Popular Listicles
One great example of a listicle is "10 Reasons Why You Should Try Yoga" which provides insight into why yoga can be beneficial for physical and mental health.
Another example could be "7 Ways To Make Money Online" which outlines different ways to make money from home through online jobs or businesses.
Lastly, "5 Tips For Eating Healthy On A Budget" offers practical advice on how to eat healthy without breaking the bank.
From celebrity-focused top ten lists to informative how-to guides, countless types of listicles can be used for content marketing. To make sure your listicles reach their maximum potential, it's important to understand the best practices for optimizing them.
Best Practices for Optimizing Your Listicles
To ensure that your listicles reach the widest possible audience, it is important to optimize them for SEO purposes. Here are some best practices you should follow when optimizing your listicles:
Include Relevant Keywords
Incorporate relevant keywords throughout the article as well as in the title and meta description tags of the page itself. This will help search engines identify what your content is about and rank it accordingly.
Link Out
Link out to other relevant pages on your website whenever possible as this will help boost your ranking even further. Make sure you're only linking out to high-quality websites with reputable information that adds value to your content.
Optimize Images & Videos
If you include images or videos in a listicle, make sure they have descriptive titles, captions, alt tags, etc., which contain relevant keywords too – this helps search engines understand their relevance better and improves visibility in SERPs (Search Engine Results Pages).
FAQs about Listicles
Conclusion
In conclusion, listicles are a great way to engage your audience and provide valuable content. When done correctly, they can be an effective tool for driving traffic to your website or blog. With the right strategy in place, you can create engaging listicles that will help boost SEO rankings and get more eyes on your content. Remember to focus on creating quality content with relevant keywords and use best practices when optimizing your listicles for search engines. By following these tips, you'll be able to make the most of listicles as part of your overall marketing strategy.
Are you looking for an effective way to boost your content marketing and SEO strategy? Look no further than curationsoft! Our listicle-focused platform provides the perfect solution, helping you create compelling content that will capture the attention of readers and search engines alike. With our intuitive interface, easy-to-use tools, and comprehensive analytics suite – it's never been easier to maximize your online presence through quality curated lists! Try us today and see how we can help take your business to the next level.