Unlock the Benefits of Bookmarking for Marketers
Have you ever texted or e-mailed someone a link you thought would benefit your friend or colleague? Whatever link it is, a job link, a weight loss tips website, an inspiring motivational video, etc., you have participated in social bookmarking.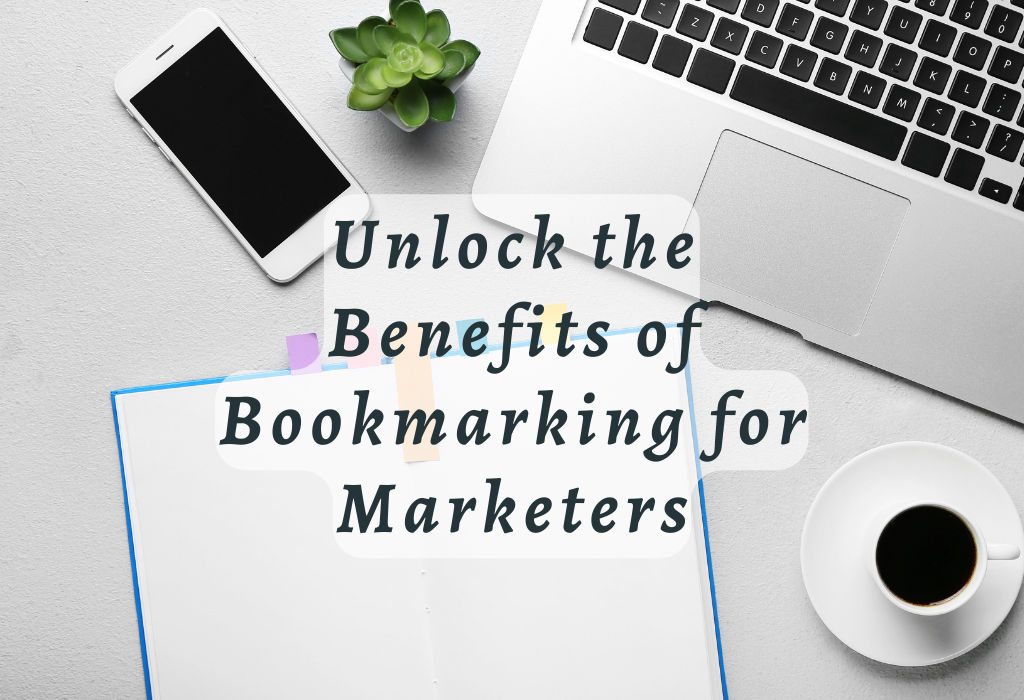 What is Social Bookmarking?
Social bookmarking is a powerful tool for content marketers, allowing them to store and share their web pages with others. It's an off-page optimization activity that helps improve the SEO of a site by creating backlinks from other websites.
When you submit your link to a social bookmarking website, you can title it and add related descriptions and keywords.
This title is an anchor text for the backlink, so incorporating main keywords into the title can help optimize your link even further.
Benefits Of Social Bookmarking
Popular social bookmarking sites include Twitter, Pinterest, Digg, Delicious and Reddit.
Each one offers different features that make them unique – on Twitter, you're limited to 140 characters or less; while on Pinterest, images are key; while on Digg, users vote up stories they like best; while Delicious has tagging capabilities, and Reddit encourages discussion around topics through its comment threads.
Using these sites effectively requires more than just submitting links – it involves engaging with other users meaningfully.
For example, if someone comments positively about your post, then thank them or respond to their questions and comments to build relationships with potential customers or influencers who may be interested in what you offer.
You could also join conversations relevant to your niche to get noticed by people who might not otherwise find out about you or become aware of what services, products you provide etc.
In addition, using social bookmarks can help increase traffic directly from those sites, which means more exposure for whatever page content was shared there – this could lead to increased brand awareness & loyalty among existing followers plus new ones too!
Plus, search engines will recognize the number of times something has been shared online, boosting its rankings when someone searches for related terms associated with that topic (which increases visibility).
All this adds up over time resulting in improved organic reach & higher conversion rates, which is great news for any marketer looking to maximize their ROI!
Best Practices for Social Bookmarking
Social bookmarking effectively increases your online presence and builds a following around your brand or niche. However, following best practices when engaging in social bookmarking activities is important.
Here are some tips for success:
Choose Quality Sites
Pick respected ones with high domain authority when selecting sites to post on.
This will help ensure that search engines recognize the content you share and boost its ranking in search engine results pages (SERPs). Avoid low-authority sites, as they can have a negative impact on your domain authority score.
Complete Your Profile
Make sure you claim each profile and add complete information about yourself or your company across all social bookmarking sites.
Consistency is key here – be sure to use the same name, logo, bio etc., so that search engines can easily index your site correctly.
Engage With Your Audience
Don't just fill out a profile and then disappear!
Social bookmarking works like any other social media platform – take part in conversations, interact with other users, comment on posts etc., if possible.
The more engaged you are with others on these platforms, the better chance of success you have at building relationships and increasing visibility for your brand or business.
Track Progress
Remember to track progress by monitoring metrics such as click-through rates (CTRs), shares, likes, comments etc., so that you can adjust strategies accordingly over time based on what works best for achieving desired outcomes from social bookmarking activities.
Top Social Bookmarking Websites
How to Use Social Bookmarking Sites?
Content Curation
One of your responsibilities as a marketer, particularly on social media, is to curate content to share with your audience. People look to your brand for industry resources and expertise. You can save articles or resources you find online using a social bookmarking site, so you always have enough content to share with your audience. Social bookmarking saves time and allows you to schedule content in advance.
Tag Content
Most social bookmarking sites allow you to "tag" content, which means you can label it. For instance, if you post a blog about YouTube SEO strategies, you can "tag" that content as "YouTube."
Then, when you want to look for that article again or need YouTube resources, you have a section in your social bookmarking account labelled YouTube. This keeps your saved resources organized and accessible.
Drive Traffic to Your Site
Social bookmarking sites can direct visitors to your website. If people bookmark and vote on your post, it will appear in searches and drive traffic to your site.
You want others to bookmark your content and share your posts on your social bookmarking profile. You can make this easier for users by including social bookmarking buttons on your blog, allowing readers to bookmark your content with the click of a button.
In the example below, writer Nicole Peeler drives traffic to her website through the content she creates on Medium. She links to her website, Medium profile, and organization profile below her post. Users who like her post can easily find more information by using the links below the article.
Build Backlinks
Social bookmarking sites can be an excellent complement to your link-building strategy. You can bookmark resources on your website using your profile. However, you should include more than just bookmarks on your website.
Use social bookmarking as usual, bookmarking other resources, but mix in a few posts from your site. While social bookmarking should not be your sole link-building strategy, it can supplement it.
Share Resources
Sharing content with your team is another way to use social bookmarking tools. If you find an article about social media strategy as a marketer, you can tag it as "Social Media", so your social media team can find it. Furthermore, if everyone on your team can access the social bookmarking site, they can check in regularly to find the required resources. This allows employees to advance their careers while sharing what they learn with their coworkers.
In Pocket, for example, you can "tag" content. You can access specific articles by clicking the "Tags" category on the left-hand side of your profile.
Organize and Save Resources
One advantage of social bookmarking sites is that they allow you to organize and save content you want to revisit later. As a marketer, you should keep track of resources that will help you grow professionally. Using a site where you can keep these resources organized so you retain valuable content is beneficial.
SEO
Search engines frequently display results from social bookmarking websites. A link is created when a site is bookmarked on a social bookmarking site, and search engines index it. This builds trust with search engines. Content frequently voted for and bookmarked by users on social bookmarking sites appears higher in search engine results.
Promote Your Mentions
You can use social bookmarking to link to articles or blog posts that mention your company in addition to bookmarking articles on your site. Your social bookmarking profile, on the other hand, should include a mix of self-promotion and unbranded content.
Conclusion
In conclusion, bookmarking is a powerful tool for marketers to optimize their content and increase visibility. Bookmarking can help you reach more potential customers, drive traffic to your website, and boost SEO rankings.
By understanding the benefits of bookmarking and following best practices, you can ensure your content reaches its full potential. So remember bookmarking as part of your marketing strategy – it could be the key to success!